The most important things.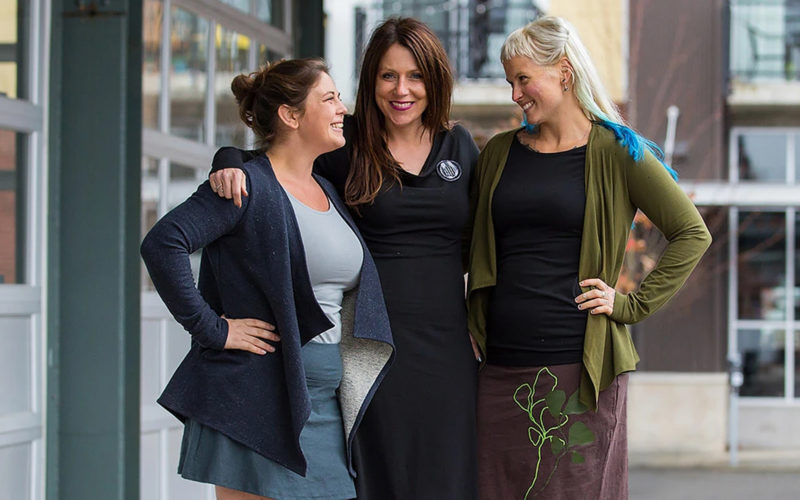 If you have been a customer and/or follower of ours for any length of time, you know that we are serious about a few things. These are the most important things to us, and we talk about them often: love, conscious consumption, and body positivity. Simply put, we care about people, and we care about our environment. Knowing that to be born a human is to be born imperfectly, we strive to live and breathe these ideals, understanding that we will certainly make mistakes along the way. We do our best with the tools that we have and extend grace to ourselves and others.
Vision Statement: Texture Clothing envisions a world where all people strive to be loving and kind. A place where everyone feels welcome, worthy, and supported on this 'human experience' journey.
Mission Statement: Texture Clothing uses sustainable fabrics and works to create zero waste in the creation and sales of eco-friendly hemp and organic cotton basics that are designed for curves and make our customers feel great about their bodies.
Non Profit Organizations
We feel a moral obligation to pass on a portion of our profits to organizations that align with our mission. It's essential to us that you know that when you have purchased from us, please know that a portion of the money you spent has gone to the following non-profits:
Bellingham Food Bank
We have donated both food and time to this amazing organization. Nearly 20% of Bellingham residents visit the Bellingham Food Bank on a regular basis. More than 50% of the people who come to the food bank are kids or senior citizens. They are one of the busiest food banks in Western Washington. They are visited by more than 1,350 Bellingham families every week.
Ragfinery
We are so delighted to work closely with Ragfinery! They opened in April 2014 as an extension of ReUse Works, who also make "jobs from waste". They divert unwanted textiles from the waste stream and upcycle them in a training business that provides transitional jobs for low-income clients of partner social service agencies and schools. They do this by collaborating with local artisans and community volunteers and teaching their worker trainees and community members the traditional skills of identifying fabric values, cutting, sewing, weaving, and creatively re-purposing post-consumer textiles into products of value.
Lydia Place
The mission of Lydia Place is to disrupt the cycle of homelessness and promote sustained independence for current and future generations. Today they serve over 150 families at a time, providing in-home parenting support, in-home mental health counseling, intensive case management, community-building activities, and connections with a wide array of local partners.
Bellingham Human Rights Film Festival
We believe it's important to abide by the Universal Declaration of Human Rights, adopted by the United Nations. The Bellingham Human Rights Film Festival (BHRFF) is an occasion for our community to explore critical rights issues together and to deliberate how we might promote human rights near and far. What are rights, what are universal human rights, and what do we do to ensure those rights are being honored? Such questions are at the core of BHRFF.
Northwest Community Bail Fund
You can read some stories on their website to understand why this bail fund is so important. The Northwest Community Bail Fund works to ensure that people accused of low-level crimes have an equal opportunity to defend themselves from a position of freedom. They provide cash bail for people who are unable to pay due to poverty, who are charged with crimes in King and Snohomish Counties, and have no other holds. They also provide support to navigate the legal process with the aim of reducing pretrial incarceration and its consequences, which in turn reduces the pressure to plead guilty.
Campaign Zero
Over 1,000 people are killed by police every year in America. Campaign Zero calls on local, state, and federal lawmakers to take immediate action to adopt data-driven policy solutions to end this violence and hold police accountable. Standing in solidarity with the Black Lives Matter movement, this is an important step in or racial justice and healing for the United States.
Community Organizations
We believe that it is also important that we be a part of community organizations that can both challenge and support us to accomplish our mission and vision.
Green America
Since 2005, Texture Clothing has been a member of Green America. Their mission is to harness economic power—the strength of consumers, investors, businesses, and the marketplace—to create a socially just and environmentally sustainable society. They do this by focusing on four areas for system transformation, insisting on social justice and environmental health across all sectors. They believe if we can get these right, the rest of the economy will follow: climate and clean energy, sustainable food and agriculture, responsible investing, and fair labor.
Sustainable Connections
We joined this Bellingham based community of small businesses in 2009. The mission of Sustainable Connections is to create thriving communities through innovative ideas, collaboration, and action. They define "thriving" as a condition beyond mere survival, implying growth and positive development. Their stated values are sustainability, diversity, innovation, cooperation, positivity, inclusion, creativity, adaptability, and resourcefulness. Because of Sustainable Connections' challenges, we are closer to accomplishing Zero Waste, Green Power, and Energy Efficiency.
Seattle Made
We joined this incredibly supportive group of manufacturers in the Seattle area, back in 2014. The mission of Seattle Made is to grow and support a diverse ecosystem of urban manufacturers and producers that expand opportunities for local ownership and meaningful employment, build our region's long-term resiliency, and celebrate Seattle's unique cultural identity.
Craft Industry Alliance
With a focus to strengthen creative businesses, this is a trade association for craft industry professionals. Craft Industry Alliance is committed to fostering a community that reflects the rich history and cultures of craft and the diversity of crafters. Our goal is to continuously evolve and to proactively create an organization that seeks to represent and recognize this diversity.
Photo Credit: Kristin Foster